The Big Numbers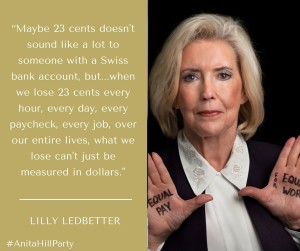 In 2015, American women working full time earned only 79 cents for every $1 earned by a full-time male worker. This is a gender wage gap of 21%.
In 2014, the median earnings for S.C. men were $41,991 compared to $33, 719 for women. S.C. women working full-time and year around earned only 80 percent of what men earned, ranking the state 22nd among the 50 states.
The pay gap is worse for women of color and largest for Hispanic and Latina women, who were paid only 54 percent of what white men were paid in 2014.
The gender pay gap increases with age. After 35, women typically earn 75-80 percent of what men are paid.
While education is a useful tool for increasing earnings, it is not effective against the gender pay gap. At every level of academic achievement, women's median earnings are less than men's.
Wage inequality is a family issue. Some 40 percent of households with children include a mother who is either the sole or primary earner for her family.
"The Simple Truth about the Gender Pay Gap" Fall 2015, the American Association of University Women.
The Unexplainable
There is an unexplainable 7 percent difference in the earnings of male and female college graduates one year after graduation, even after accounting for factors including college major, occupation, industry, sector, hours worked, workplace flexibility, experience, educational attainment, enrollment status, GPA, college selectivity, age, race/ethnicity, region, marital status, and motherhood.
"Graduating to a Pay Gap" 2014, the American Association of University Women.
The Future
At the current rate of change, it will take until 2058 for women and men to reach wage parity. See more from Catalyst.