Anita F. Hill
Professor of Social Policy, Law, and Women's, Gender and Sexuality Studies at Brandeis University and Faculty Member at the Heller School for Social Policy and Management at Brandeis
In 1991, Anita Hill was thrust into the public spotlight when she alleged sexual harassment by her former boss, Judge Clarence Thomas, as she testified before the Senate Judiciary Committee during his confirmation hearing for the U.S. Supreme Court. The hearing transfixed America, and Hill's testimony was credited with greatly raising public awareness of sexual harassment, inspiring women to run for public office in record numbers, and significantly increasing the number of women willing to speak out publicly about their own experiences with sexual harassment.
And, more than 25 years later, she became a symbol and catalyst for the #MeToo movement, which began in late 2017.
The youngest of 13 children raised on a farm in rural Oklahoma, Hill received her J.D. from Yale Law School in 1980.  She began her career in private practice in Washington, D.C., but left in 1981 to serve as a legal adviser to Clarence Thomas, then Assistant Secretary of the U. S. Department of Education's Office of Civil Rights.  When Thomas became chairman of the Equal Employment Opportunity Commission (EEOC) in 1982, Hill went along to serve as his assistant.
She left that job in 1983, when she accepted a teaching position at the law school of Oral Roberts University.  Three years later she joined the faculty of the law college at the University of Oklahoma, where, in 1989, she became the first tenured African American at that institution.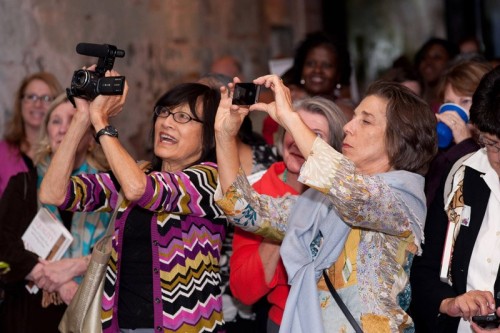 After her famous testimony in 1991, Hill returned to the law faculty at the University of Oklahoma. But she also became a sought-after speaker in the United States and around the world, and has since made hundreds of presentations about sexual harassment and about race, gender, and class issues.
In 1998, Hill joined the faculty of Brandeis University, where she teaches courses on gender, race, social policy, and legal history.  In 2011, she also accepted a counsel position with the Civil Rights & Employment Practice group of Cohen Milstein Sellers & Toll, a plaintiffs' law firm based in Washington, D. C.
In 1997, Hill published her autobiography, Speaking Truth to Power, which chronicles her role in the Clarence Thomas confirmation controversy.  Her second book, Reimagining Equality: Stories of Gender, Race and Finding Home, was published in 2011; it takes the reader inside the subprime mortgage meltdown and the resulting devastation across the United States.
Hill has authored numerous scholarly articles on commercial law, bankruptcy, race, civil rights, and women's rights. She also has written commentary for Time, Inc., Newsweek, The New York Times, The Boston Globe, and other publications. She has appeared on national television programs including Good Morning America, Meet the Press, and The Today Show.
Professor Hill is the recipient of numerous awards, grants, and honorary degrees. In 2005, Hill was selected as a Fletcher Foundation Fellow for her work aimed at ending educational disparities among poor and minority students. In 2008, she was awarded the Louis P. and Evelyn Smith First Amendment Award by the Ford Hall Forum for her promotion of gender and race equality.
In 2017, she was chosen to lead the charge against sexual harassment in the entertainment industry for the Commission on Sexual Harassment and Advancing Equality in the Workplace. Its mission is "to tackle the broad culture of abuse and power disparity."
In April 2019, Hill was once again in the news when former Vice-President Joe Biden phoned her to "convey his regrets for what she endured" during the Clarence Thomas confirmation hearings.  (Biden, who in 1991 presided over the hearings as chairman of the U.S. Senate Judiciary Committee, was subsequently criticized for not calling several other witnesses to testify.  They were prepared to corroborate Hill's charges against Thomas.) Hill said the phone call left her "unsatisfied," and said that Biden needs to take more responsibility for the damage done at the hearings — not only to her but to later victims of sexual harassment.
Hill's professional and civic contributions have included chairing the Human Rights Law Committee of the International Bar Association, and membership on the Board of Governors of the Tufts Medical Center, the Board of Directors of the National Women's Law Center and the Boston Area Lawyers Committee for Civil Rights, and the Board of Trustees of Southern Vermont College in Bennington, Vermont.
Hill received the American Bar Association's Commission on Women in the Profession's "Women of Achievement" Award  in 1992.  She was inducted into the Oklahoma Women's Hall of Fame in 1993.  Hill's opening statement to the Senate Judiciary Committee is listed as No. 69 in American Rhetoric's Top 100 Speeches of the 20thCentury.