S.C. Elected Women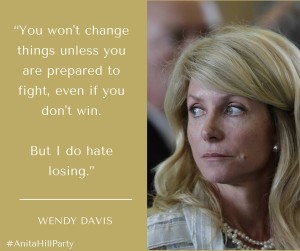 S.C. voters have never sent a woman to the U.S. Senate.
In the 1930s-1940s, three women — Elizabeth H. Gasque, Clara G. McMillan and Willa Lybrand Fulmer – were appointed to fill their husbands' vacant seats in the U.S. House of Representatives after their husbands' deaths.
Corinne Boyd Riley won a special election in 1962 to fill her husband's seat for nine months after his death.
Elizabeth Johnston Patterson was elected to Congress in her own right in 1987 and served three terms, through 1993.
No woman has served in the S.C. delegation since 1993. No S.C. woman of color has ever served in Congress.
Currently, there are only 4 women in the 46-seat SC State: Senator Katrina Shealy (R),  Senator Margie Bright Matthews (D). Senator Mia McLeod (D) and Senator Sandy Senn (R).
In 2015, only 14.1 percent of seats in the state legislature were held by women.
South Carolina ranks 47th among state legislatures in women elected to office.
Ferdinan B. Nancy Stevenson was the state's first and so far only female lieutenant governor, serving from 1979 to 1983.
Nikki Haley was elected South Carolina's first female governor in 2010 and re-elected in 2014. She is the only woman of color in an executive and elective office. In 2017 Governor Haley was asked to join President Trump's cabinet as Ambassador to the United Nations, resigning her position as governor of SC.
While 71.7 percent of S.C. women are registered to vote, only 59 percent vote. In 2015, the Institute for Women's Policy Research gave South Carolina a D- in political participation.
Check out "Women in Congress" a government document at Dacus Library, Winthrop University, "The Status of Women in South Carolina: 2015" by the Institute for Women's Policy Research and SC State Fact Sheet by the Center for American  Women in Poliltics.
Also, view South Carolina's current fact sheet as of 2017.
Nationally Elected Women
No women served in the U.S. Congress until 1917.
In 2017, only 84 women serve in the U.S. House of Representatives and only 21 in the U.S. Senate (and that's a record number). This is still less than 20 percent of the entire Congress. Only 4 women have been elected to the U.S. Supreme court.
Only 27 states have elected women to the U.S. Senate, for a total of 50 female U.S. senators.
Nancy Pelosi, D-California, is the only woman to serve as speaker of the U.S. House of Representatives. Currently minority leader of the U.S. House, she is the highest-ranking female politician in American history.
23 states have never elected a female governor. Only 39 women, have served as governor, including four through succession and one through a special election.
Women currently make up 33 percent of the U.S. Supreme Court, thanks to Ruth Bader Ginsburg, Sonia Sotomayor and Elena Kagan.
In 2016, Democrat Hillary Clinton was the Democratic nominee in the 2016 United States Presidential Election.
"Only 11 States Have Ever Elected Both a Female Governor and Senator" FiveThirtyEight, May 19, 2014.
View the entire nation's fact sheet as of 2016.
Globally Elected Women
The United States ranks 33rd when it comes to women in the national legislature, among 49 "high-income" countries (defined as those with per-capita incomes above $12,615). This fact came from an article discussing how the US compares to other countries in terms of women leaders.
The United States has never elected a woman to the presidency.
Globally, dozens of countries have elected female presidents, prime ministers, and chancellors including Israel, Germany, Brazil, Ireland, the United Kingdom, Iceland, Pakistan, Liberia, South Korea, Sri Lanka, Malta, Indonesia, and Croatia.