Welcome to the I Believe Anita Hill Party
This is the official website of the Annual I Believe Anita Hill Party. This annual celebration serves to remind us of the power of women and men working together and the importance of remaining vigilant to sexual harassment in the workplace. The I Believe Anita Hill Party is the longest recurring annual remembrance of the 1991 US Senate Judiciary Committee Hearings in the nation or world.
Here's why this is so important.
Help Build the Anita Hill Party Archive!
The AHP History Committee is collecting memorabilia from previous parties to donate to the SC Political Collections (SCPC) at the USC Library. Bring clippings, photos, invitations,  and even written accounts of your memories to the party or email a member of the committee!  Find out more information about the achieve.
Why is the AHP still necessary?
Twenty-four years after the 1991 hearings, a new generation of people who don't know the history of the problems they will confront. The issues of equality we address are centuries old. AHP hosts seek to bring the voices of many together to ensure decades progress continue.
Why we still need to be vigilant.
AHP 2015 t-shirts are here!
Anit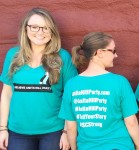 a Hill Party t-shirts are here. Be among the first to share the legacy of Anita Hill with your new t-shirt. You can purchase online to pick up at the party or have mailed to your location. @AnitaHillParty #SCStrong
Order online today.
Latest Facebook Posts
[fts facebook id=anitahillparty posts_displayed=page_only height=500px type=page]
Latest Tweets
[fts twitter twitter_name=@anitahillparty]