Come to the I Believe Anita Hill Party
This is the official website of the annual I Believe Anita Hill Party, the longest recurring remembrance of the famous 1991 U.S. Senate Judiciary Committee hearings that spotlighted sexual harassment in the workplace. Twenty-five years later, a new generation of people don't know the history of the problems they will confront. We bring our voices together to ensure that decades of progress in this arena will continue.
Help Build the Anita Hill Party Archive!
Keep the momentum going!

We're looking for Anita Hill enthusiasts who want to help preserve the progress we've made in women's equality - pay, medical, workplace harassment. If you would like to help with one of our 2017-2018 initiatives, please complete this brief form.
We still have some Anita Hill T-shirts available!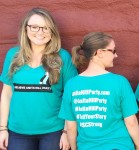 Commemorative Anita Hill Party t-shirts are still available (no size M or XXL). You can purchase online to have it mailed to your location. @AnitaHillParty #SCStrong
Latest Facebook Posts
Don't miss the Mary Baskin-Waters Lecture Tuesday, March 21, 6 PM at the USC Law School auditorium. Guest lecturer Maria
Toorpakai is Pakistan's leading squash player. She lived in a conservative tribal area and had to train and grow up as a boy in order to compete. Her lecture topic is "Human Rights in the
Face of Extremism". Maria is an inspiration to women everywhere, and a champion in the face of nearly insurmountable odds. Bring a friend!

bit.ly/2nJnPMV ... See MoreSee Less