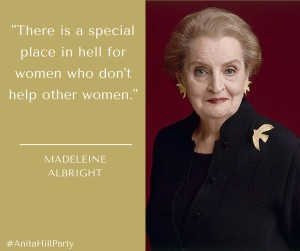 Twenty-seven years ago, Anita Hill appeared before the U. S. Senate Judiciary Committee. We've come a long way, baby, but it seems that the more things change, the more they stay the same.
Many women (and men) born after 1991 have no idea who  Anita Hill  is and how her testimony before a hostile, all-male U. S. Senate Judiciary panel during the confirmation hearings of Clarence Thomas impacted their mothers and grandmothers – and changed the manner in which women respond to bias.
 Then and Now: 1991 versus 2018
Hill – Thomas: 1991
Blasey Ford – Kavanaugh: 2018
Similarities
Anita Hill and Christine Blasey Ford brought confidential accusations to the committee, senators were slow to act, and the charges became public through leaks and news reports.
Hill and Blasey Ford have presented a sexual accusation against a Republican president's nominee that the public heard about only after the initial confirmation hearings took place.
Both Hill and Blasey Ford  took – and passed – lie detector tests.
Blasey Ford's testimony on September 27 takes place in front of the Senate Judiciary Committee. Three senators who grilled Anita Hill remain on the committee 27 years later: Republican Sens. Chuck Grassley of Iowa and Orrin Hatch of Utah and Democratic Sen. Patrick Leahy of Vermont.
In 1991, all committee members were white men. In 2018, all the Republican senators on the committee are white men.
In 1991, several of the GOP senators questioned Hill's memories. In 2018, Republican senators and their allies have done the same, including Hatch, who has said Blasey Ford is "mixed up."
Like Clarence Thomas, Brett Kavanaugh categorically denies the claims made by his accuser.
Both Hill and Blasey Ford requested that the FBI investigate their claims. The FBI did so for Hill.
Both women said there were other witnesses.  In 1991, the chair of the committee did not call the additional witnesses. Here is Sukari Hardnett  talking to NPR about 1991. And here is a 1991 New York Times story regarding Angela Wright,  who was available to testify about Thomas's "annoying and obnoxious behavior."
As in 1991, Blasey Ford is not the only woman accusing a Supreme Court nominee of sexual misconduct. Deborah Ramirez has alleged sexual misconduct during her and Kavanaugh's time at Yale University.
Hill's testimony and the disregard shown her by the Judiciary Committee's all-white-male panel led to what was called the Year of the Woman, during which a record number of women were elected to Congress, including Feinstein. There are predictions the midterms will show a similar result.
In an op-ed piece in The New York Times, "How to Get the Kavanaugh Hearings Right,"  Hill wrote that "It's impossible to miss the parallels" between the two hearings.
Differences
Hill and Thomas were adults at the time of the alleged misconduct. Blasey Ford and Kavanaugh were teens; Ramirez and Kavanaugh were young adults at the times of the events discussed.
Hill described an extended time period of alleged sexual harassment. Blasey Ford and Ramirez have each described one alleged incident.
In 2018, four women serve on the Judiciary Committee, all of them Democrats: Mazie Hirono  of Hawaii, Amy Klobuchar of Minnesota and Kamala Harris and Dianne Feinstein of California.
President Donald Trump, who nominated Kavanaugh, has himself been accused – by at least 22 women   – of sexual misconduct.
The FBI has talked to Blasey Ford only about death threats  against her. The FBI  has not investigated Blasey Ford's claim of attempted sexual assault, despite a request by Blasey Ford's attorneys. Trump and other Republicans rejected that request.
Republican Senators Hatch and Grassley – members of the Senate Judiciary Committee then and now – said in 1991 that re-opening the FBI investigation of Clarence Thomas was "the right thing to do."  Grassley, now the Judiciary chairman, says that is not necessary for Kavanaugh.
The 2018 hearing is taking place in the midst of the #MeToo  effect.  It is thought that because the #MeToo  movement has toppled powerful men in politics, the media and the entertainment industry who were accused of sexual misconduct, many Americans view sexual assault allegations very differently now.
Take a few minutes to see where we stand today on each of the following issues: