Anita F. Hill
Professor of Law, Public Policy and Women's Studies Heller Graduate School of Policy and Management Brandeis University
The youngest of 13 children from a farm in rural Oklahoma, Hill received her J.D. from Yale Law School in 1980.  She began her career in private practice in Washington, D.C. with the firm of Wald, Harkrader and Ross with a focus on banking law and litigation.  Before becoming a law professor, she worked as an advisor to the Assistant Secretary of the U. S. Education Department and the Chairman of the Equal Employment Opportunity Commission.  In 1989, Hill became the first African American to be tenured at the University of Oklahoma, College of Law.  There she taught contracts and commercial law.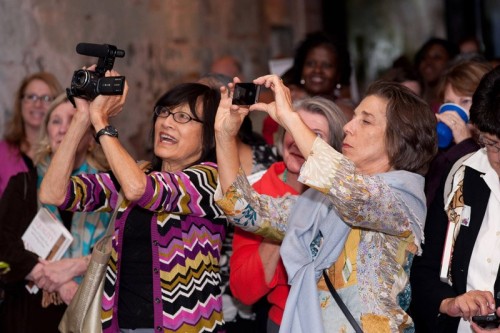 In 1991, Anita Hill was thrust into the public spotlight when she testified before the Senate Judiciary Committee during the confirmation hearing for U.S. Supreme Court nominee, Judge Clarence Thomas. After the hearing, she began speaking to audiences throughout the United States as well as in Canada, South Africa, Italy, Ireland, New Zealand and Japan about social and political problems facing the world.  Despite a demanding speaking schedule, Hill continues her teaching and research.  She believes that the combination of popular and scholarly work keeps her ideas fresh and grounded in both the latest research and in real life experiences.
Altogether, Professor Hill has nearly 25 years of teaching law students, graduate students and undergraduates.  She has authored numerous articles on commercial law, bankruptcy, civil rights and women's leadership.  In addition, she has made presentations to hundreds of business, professional, academic and civic organizations in the United States and abroad.  Her goal is to encourage creative, equitable and positive resolution of race, gender and class issues.  Hill recently became of counsel at Cohen Milstein Sellers and Toll, a Washington, D. C. firm known for his class action practice and its representation of  women suing Wal-Mart for sex discrimination.
In 1995, Hill wrote her biography, Speaking Truth to Power, which was published by Doubleday Press.  Her book, Reimagining Equality: Stories of Gender, Race and Finding Home, was published by Beacon Press in October 2011.  Reimagining Equality takes the reader inside the subprime mortgage meltdown and the resulting devastation of so many families, so many communities and even cities and exposes its deep roots in race and gender inequities which continue to haunt the country and imperil every American's ability to achieve the American Dream. Building on the great strides of the women's and civil rights struggles, Hill presents concrete proposals, which encourage us to broaden our thinking about home and to reimagine equality for America's future. She also has written commentary for Time, Inc., Newsweek, The New York Times, The Boston Globe, and Ms. Magazine and appears regularly on national television programs including Good Morning America, Meet the Press, The Today Show, The Tavis Smiley Show and Larry King Live.
In 2015, Hill was named a university professor of social policy, law, and women's, gender and sexuality studies at Brandeis University; she is also a faculty member of Brandeis' Heller School for Social Policy and Management. In 2017, she was chosen to lead the charge against sexual harassment in the entertainment industry for the Commission on Sexual Harassment and Advancing Equality in the Workplace. Its mission is "to tackle the broad culture of abuse and power disparity." The Commission is affiliated with the TIME'S UP Legal Defense Fund.
Anita Hill has been profiled by a number of national media outlets including CNN, O, The Oprah Magazine, Glamour and Essence.   Hill is also a regular interviewer for the City Arts & Lecture Series of San Francisco.  Her onstage conversations with filmmaker Spike Lee and authors, Anna Quindlen and Stephen Carter were broadcasted by 160 public radio stations around the country.
Professor Hill is the recipient of numerous awards, grants and honorary degrees. She recently received the Ford Hall Forum's First Amendment Award for her promotion of gender and race equality.  She is especially proud of receiving the Fletcher Fellowship for her work aimed at ending educational disparities among poor and minority students. That award was created in 2004 on the 50th anniversary of the Brown v. Board of Education and is given to institutions and individuals working to fulfill the goals of that landmark decision.
Her professional and civic contributions include chairing the Human Rights Law Committee of the International Bar Association, and membership on the Board of Governors of the Tufts Medical Center and the Board of Directors of the National Women's Law Center and the Boston Area Lawyers Committee for Civil Rights.